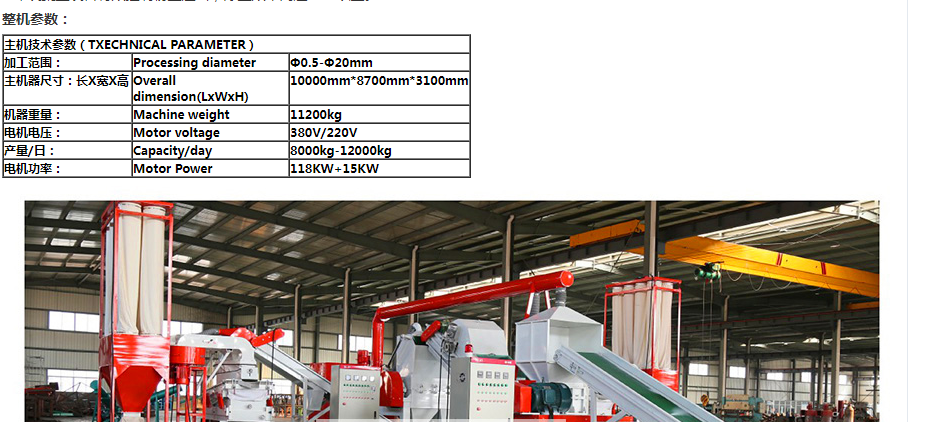 The feature of this machine is that the size lines can be broken and separated at the same time without classification. The structure is new and unique, with large production capacity and low power consumption.High sorting rate, one feeding, multi - machine cooperation.Fully automatic intelligent control.The successful development of this machine not only solves the problems in the method of copper incineration, but also improves the quality of copper recovery, recycles plastics and solves environmental pollution at the same time.
1. Economic effect: to regenerate the same electric wire, the machine has a recovery rate of more than 99%, which enables us to use more electric wires effectively in the limited resources, and the price is low, thus greatly reducing the economic burden on users.
2. Environmental protection effect: The whole process of crushing, selecting and collecting dust is rigorous and harmonious, which is more effective than burning or other methods.
Three, working principle
Principle: under the action of the wind force, two kinds of materials with different densities, after a certain Angle of the screen surface for amplitude movement generated by deflection so that the density of copper wire attached to the screen facing the copper outlet forward, the density of plastic skin floating on the copper wire flow to the outlet.So as to achieve the purpose of copper - plastic separation.
Iv. Equipment characteristics
After the waste wires and cables are broken and processed, automatic mechanical separation can separate copper and plastic, and achieve the purpose of comprehensive utilization, with higher economic benefits.Besides, there is no dust and no secondary pollution. In addition, the equipment is of integrated structure, which is convenient for installation and debugging, and transportation (it can be produced after customers purchase and connect the power), with stable performance.
1. Compact structure, beautiful appearance, reasonable layout and convenient installation.
2. Automatic intelligent control makes the equipment feed uniformly and operate intelligently, making the operation more convenient, saving worry, time and effort, and ensuring the stable operation of the equipment.
3. The crusher adopts the roller type, low speed, high torque, large output, small noise, simple operation.
4. The crusher, sorting equipment and dust collecting equipment adopt the combined platform, which makes the equipment easy to move and transport, and increases the flexibility of the equipment.
5. The rotor of the crusher adopts alternate cutter shaft, which makes the crusher more efficient, less noisy and more stable in operation.
6. The separation rate of airflow sorting equipment is up to more than 99%.
7. The feed-back system makes semi-finished products to be secondary crushed to ensure the separation of metal and non-metal.
8. Cloth bag dust collecting equipment can effectively control dust overflow with dust removal efficiency up to over 99%.